JAMOR 6-Compartment Egg Storage Box Wholesale, From 98 Pcs Per Carton
Sale price Price $199.00 Regular price $389.00 Unit price / per
The egg storage box is made of food-grade PP material, no BPA, safe and environmentally friendly, sturdy and durable; can be stacked and stored, neat and beautiful, saving space, so that the refrigerator is organized, clean and easy to use.

The high-quality plastic structure can withstand daily use, is dust-proof and moisture-proof, and is easy to carry. The sturdy lid of the container can be stacked to increase the storage space of the refrigerator.
The groove design, each egg is placed separately to prevent shaking and effectively prevent the egg from collision and cracking. To maintain the integrity and freshness of each egg. kitchen camping picnic essential products.
The egg box can hold 6 eggs, which is suitable for almost all kinds of eggs and duck eggs on the market. The egg box is a transparent box, you can easily tell the status and quantity of the eggs inside. It is convenient for you to replenish your egg inventory in time!
The egg rack can save space and give your eggs a great home. Very suitable for storage in the refrigerator. Ideal for refrigerators, freezers, kitchens, kitchen cabinets, camping and picnics. The egg box has strong carrying capacity, comfortable hand feeling, smooth edges, safe use, and 100% safe storage of food!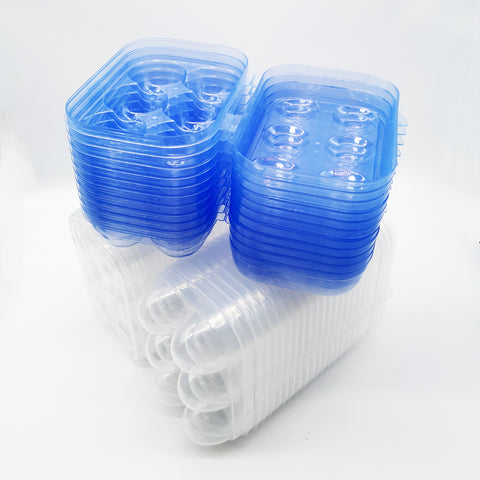 Free shipping. Purchase samples to the Amazon JAMOR flagship store.
Shipment will take 3 working days after the order is placed. Free replacement for damaged goods received.